Nepali Congress leader and former minister Govinda Raj Joshi played a very important role to transform the education system in Nepal.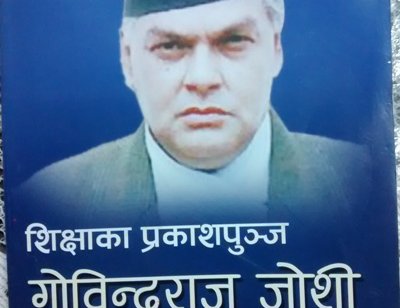 After the political change of 1990, Nepali society entered a democratic era. The political change created a situation in which the education system could be based on the new ways of life and politics.
Light of Education
Govinda Raj Joshi
By Tank Prasad Uprety
Published by Bishwo Sahitya Mahasangh, Bishwo Kendriya Samiti
Pages: 180
Price: Undisclosed
As Nepal was ready for a major change in the education system, the country found a minister of education who could lead the show. Education minister Govinda Raj Joshi had a long experience in the education sector. A Nepali Congress leader, Joshi knew whether there was a need for intervention to make the Nepalese education competitive and qualitative.
The year 1992 was historic as the first democratically elected multiparty government was formed under the leadership Girija Prasad Koirala. The year 1992 was not only the period of beginning of political liberalization but also a period of globalization of education system in Nepal.
Govinda Raj Joshi was the first education minister under the new government. Having started his political career as a student leader, who later became a headmaster of a school in his home village of Tanahu, Joshi took several decisions to raise the standards of education comparable at the international level. He introduced a new education policy and the 10+2 higher secondary education.
In allowing the private sector to contribute in education, he encouraged the people's investment in the education system. This helped to increase the quality of education as well.
During the period, it was very difficult to phase out the certificate or intermediate levels of education. However, Joshi took a bold decision and announced the timeframe to remove the intermediate level from colleges.
Along with introducing the 10+2 education system, minister Joshi also introduced the concept of multiple universities, approving Kathmandu University, Purbanchal University and Pokhara University.
With the promulgation of the New Education Policy, Joshi established University Grants Commission to provide the resources to institutions of higher education.
In the book, published by Uprety, various political leaders, education experts and teachers have commented on the role played by Joshi from being a student leader to a headmaster and minister.
The author describes how Nepali Congress leader Joshi promoted the new education policy and enhanced the people's contribution in the education sector. From Joshi's critics to his own party colleagues; they have critically evaluated Joshi's role and place in the modern education system.
Author Uprety divides the book in various parts including the background of education development in Nepal, biography of Joshi, comments from people of various walks of life and his documents and photographs.
The book, written in Nepali, gives a glimpse into the history of modern education system in Nepal, mainly focusing on the period of Joshi. In doing so, it highlights the period of liberalization of education system in Nepal.